MEMO: NOTICE OF CHANGE TO GR/IR POSTED DOCUMENTS – August 19, 2019
As a follow up to the Interim notice sent on July 30th, 2019, we are pleased to confirm that the Goods Receipt / Invoice Receipt posting and reporting changes will be implemented effective September 1st, 2019.  Please find below the details outlining the changes, the transition process and available support.
Changes to the posting and reporting of Goods Receipts and Invoice Receipts transactions in UofT Divisional Accounts
Effective September 1st, the processing of a Goods Receipt (GR) transaction and an Invoice Receipt (IR) transaction will result in the following postings:
Goods Receipt document (i.e. document number "50xxx…") – will be posted to BOTH, your Cost Center (CC) or Internal Order (IO) account AND your Fund Center (FC) or FC/Fund (FUND) account.
As a result, CC or IO reports and FC or FC/Fund reports will reflect the same document number and will be updated at the same time.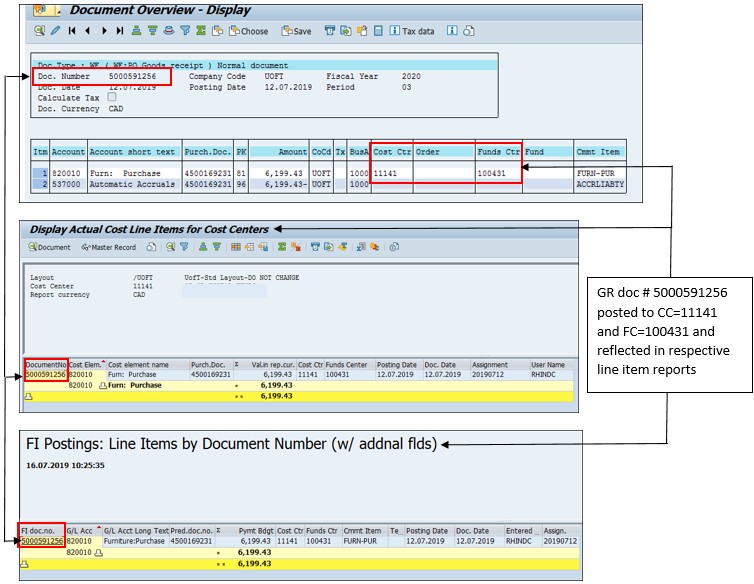 Invoice Receipt document (ie. document number "51xxx…") – will be posted to the appropriate Vendor account to issue payment, with an offsetting entry to the GL=537000 to clear the GR document posting (document 50000591256) as follows:

The IR document number 5100609294 will not be reflected in the accounts of FC=100431, since the GR document has already posted to the FC.
Transition to New Configuration
In order to effect the system changes to the GR/IR posting logic, it will be necessary to clear all PO's (including uSource) with outstanding GR/IR variances as at August 30th, 2019, which meet the following criteria:
A goods receipt with no corresponding invoice receipt document processed
An invoice receipt document was processed but differences exist between the goods receipt and the invoice receipt document.
The standard GR/IR clearing program, which is run annually by Financial Services will be used to clear the variances.  For Divisions with a significant number of affected Purchase Orders, a detailed list of documents that have been identified through testing and analysis will be emailed to the Divisional Finance Office.
What do you need to do? Where possible…
If you have processed a GR, process the corresponding IR before end of day August 30th ,2019
If you have received delivery of goods but will not receive an invoice or cannot process the invoice before end of day August 30th, 2019, hold off on processing the GR in FIS and/or uSource until September
Where it is not possible to do the above, we have developed some FAQ's to guide you through the transitional phase between the "old" and "new" GR/IR posting logic. Click here to view the FAQ's.
In addition, we will have FAST team and Procurement Services staff available at the following GET Help Fast drop in sessions to answer any question you have related to the GR/IR change:
Tuesday August 20th, 2019                11:30am-1:00pm        256 McCaul St., Room 109
Wednesday September 4th, 2019      12:30pm-2:00pm        256 McCaul St., Room 103
If you have any questions or concerns, please contact your FAST Team representative for your Faculty:
https://finance.utoronto.ca/fast/fast-team-contacts-and-faculty-representatives/