Is there a quicker way to find the Vendor Account numbers I need? Yes. Save yourself time and create a Personal "Favorites List"!
Prior to creating your personal list take some time to display the Vendor Master Record. This screen will enable you to review the Vendor's entire address information to ensure current address information is up to date and the correct Vendor number is being selected as some Vendors may have multiple accounts. This will save time when processing.
See the reference guide link below for instructions.
You can create/add to your Personal Vendor List any time by using the match code button when searching for Vendor numbers from the Accounts Payable, Purchase Order, Purchase Requisition and Vendor Display screens.
To search for the Vendor Number you wish to include in your Personal List search using "vendors by acct. group" tab, using any or all of the available search criteria, use "*" wildcards, to expand the results.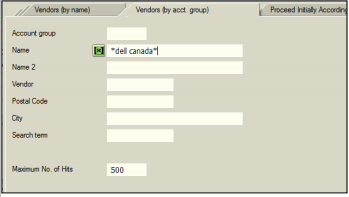 Highlight the Vendor number required and press "Insert in Personal List" icon (

).

The next time you do a Vendor match code search you will see your Personal List first.

If the vendor you require does not appear on the list you can do another search by either selecting the "Display all values" icon (
) or pressing the open arrow (

) , to open the search criteria box, these are found as indicated below;

Note: Personal Lists can also be created for various accounting information, such as G/L Accounts, Cost Centers, Internal Orders, Funds Centers and Funds.
---
Learn More: