Procurement: Policy and Guidelines
In addition to the University of Toronto Procurement Policy, the acquisition of goods, services and construction must also comply with a number of other internal polices and external regulatory obligations including, but not limited to:
Federal and Provincial Trade Agreements *
The Ontario Broader Public Sector (BPS) Procurement Directive including the Code of Ethics and Approval Authority Schedule (AAS)
The Guide to Financial Management (GTFM)
Research Funding Agency requirements
Policy on the Execution of Contracts and Documents
Accessibility for Ontarians with Disabilities Act (AODA)
| | |
| --- | --- |
| * | Federal and Provincial Trade Agreements require the University to report on all procurement activity at or above trade agreement thresholds on an annual basis. Evidence-based decision-making must be included and retained in all procurement documents for reporting and auditing purposes. |
For more information, see Procurement at the University of Toronto on the Procurement Services website.
---
1. General Policy Objectives
The University of Toronto must maintain high legal, ethical, managerial, and professional standards in the management of the resources entrusted to it as a publicly and privately funded institution. The University has an established Approval Authority Schedule (AAS), which governs the level of approval authority required when purchasing goods, consulting and non-consulting services, construction and renovation work.
At a minimum, the University must ensure that goods, services and construction are acquired in a manner that ensures the University:
obtains value for money by incurring the lowest cost in the fulfillment of specified needs with appropriate levels of quality, delivery and service;
uses a fair and open process when calling for, receiving, and evaluating quotations and tenders;
meets its statutory, legal and ethical obligations in the acquisition of goods and services; and
employs trained staff skilled in procurement techniques including contract negotiation, ensuring appropriate terms and conditions, applying cost reduction techniques, and maximizing collaborative buying opportunities
2. Procurement Principles
Procurement activities are to be undertaken in accordance with the following principles:
Supplier Access, Transparency, and Fairness
Access for qualified suppliers to compete for the University's business must be open and the procurement process must be conducted in a fair and transparent manner providing equal treatment to suppliers. Suppliers must have equal access to information on procurement opportunities, processes and results.
Where the University imposes conditions for participation in a procurement, it shall limit such conditions to only those that are essential to ensure that a supplier has the legal and financial capacities, and the commercial and technical abilities, to undertake the relevant procurement.
In establishing the conditions for participation in the procurement process, the University:
shall not impose a condition that, in order for a supplier to participate in a procurement, the supplier has previously been awarded one or more contracts by the University;
may require relevant prior experience if essential to meet the requirements of the procurement; and
shall not require prior experience in Ontario or Canada to be a condition of the procurement.
Geographic Neutrality and Reciprocal Non-Discrimination
The University must ensure that access for suppliers to compete for business is geographically neutral with respect to other jurisdictions that practice reciprocal non-discrimination with Ontario.
Procurement Planning
Prior to any procurement activities, the University shall undertake planning to identify the goods and/or services including construction required to meet its needs, to determine the appropriate procurement method and to determine the appropriate approvals required. The University shall not prepare, design, or otherwise structure a procurement, select a valuation method, or divide procurement requirements to avoid compliance with the Procurement Policy.
During the procurement planning process, the University should ensure:
Value for Money is achieved for any procurement, and the method and supply strategy meet business needs and are fiscally responsible;
Quality Service Delivery is provided by suppliers awarded University business;
Process Standardization is utilized to remove inefficiencies and minimize administrative effort;
Sustainability is given due consideration to promote social, environmental and financial stewardship.
Conflict of Interest
Conflict of interest, whether actual, potential or perceived, must be avoided during the procurement process and the ensuing contract. It is the responsibility of individuals involved in procurement decision making or a procurement process to disclose any actual, perceived or potential conflicts of interest in accordance with University of Toronto policies and guidelines
Accountability
University employees must be accountable for using compliant procurement methods and the results of their procurement decisions.
3. Policy Scope and Application
As the steward of the University of Toronto Procurement Policy, central Procurement Services (St. George campus) sets standards through the issuance of institutional procurement policies, procedures, broad-based programs and initiatives within ethical, legal and professional frameworks. It also provides leadership, support and quality services to the University community for purchasing transactions over which Faculties and Divisions have delegated authority.
The University's Procurement Policy governs the acquisition of goods and services (including construction and renovation work) by purchase, rental or lease, with University funds from all sources including operating, research, capital and ancillary funds and all other funds held in trust or at its disposal.
This Policy does not apply in the following circumstances:
acquisition of a good, a service, or any combination thereof, procured with a view to commercial sale or resale, or for use in the production or supply of a good or service for commercial sale or resale; and
participating in any commercial arrangements where the University is not acquiring any goods or services such as affinity programs, sponsorships and memberships.
For further information, contact Procurement Services at .
4. Methods and Processes
In addition to the Approval Authority Schedule, the University has established dollar thresholds that determine the most appropriate process. As of January of 2018, and to comply with applicable Trade Agreements, the University's dollar thresholds and respective methods were revised as follows: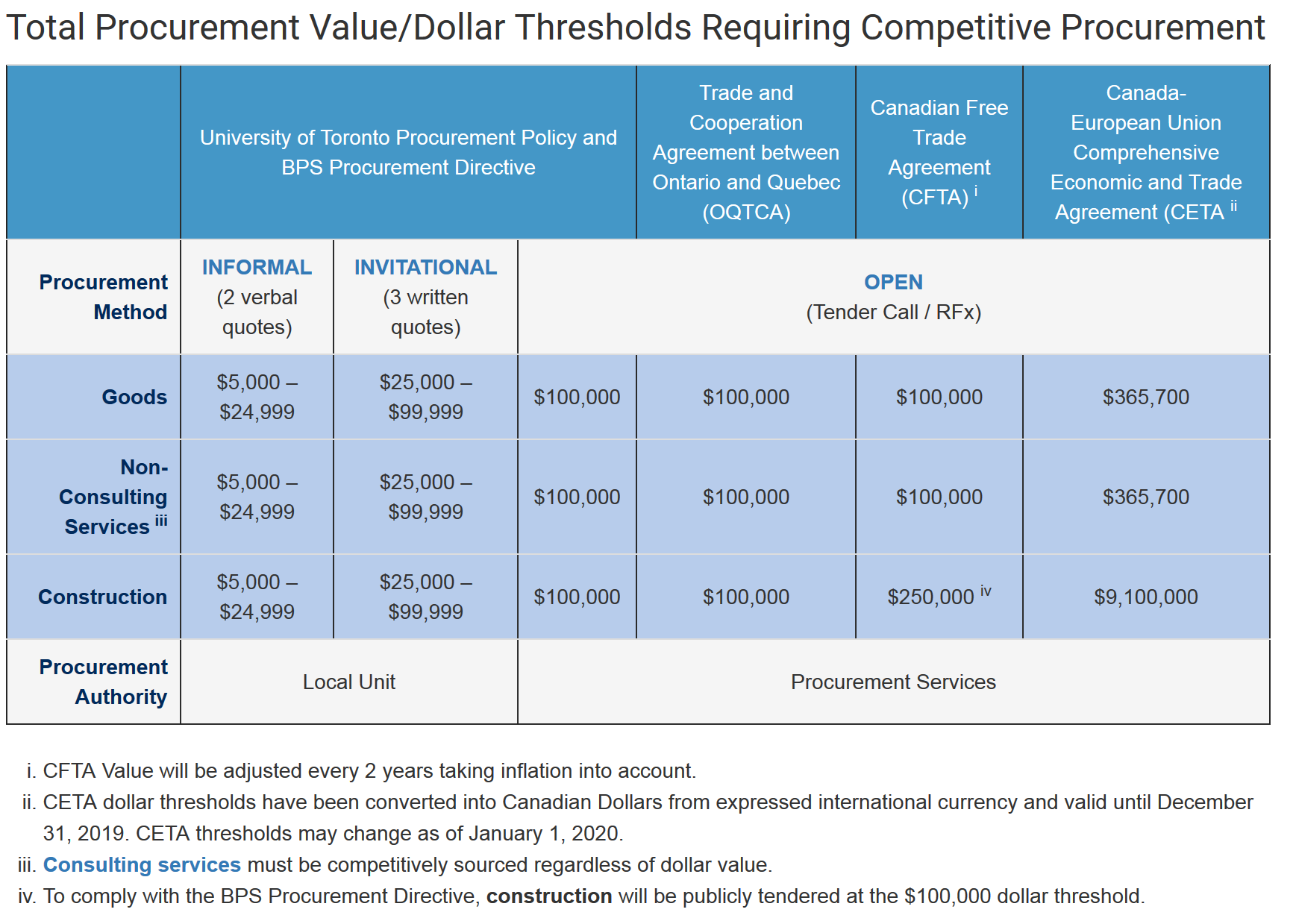 Faculties, Divisions, and Departments have delegated authority to make direct purchases for goods and services that are below $5,000 and can do so without a Purchase Order (PO). Purchases between $5,000 and below $25,000 should be supported by at least 2 supplier quotations and the purchase confirmed by PO. Purchases between $25,000 and below $100,000 must be supported by a minimum of 3 supplier quotations and the PO must be released by Procurement Services.
The purchase of goods and services at or greater than $100,000 must be available to all qualified suppliers in the market, and issued via open tender calls by Procurement Services on behalf of Faculties, Divisions, and Departments . Purchase Orders of this value can only be released by central Procurement Services or the Capital Projects Group in Planning, Design & Construction, University Operations (for construction projects only). Purchase Orders for the Mississauga and Scarborough campuses are released directly by their respective purchasing departments.
In addition, central Procurement Services directs strategic purchasing activities of the University by providing leadership in all functions. This includes negotiating arrangements with approved suppliers so that all departments benefit from the full purchasing power of the University. Many of the University's approved suppliers have been enabled on uSOURCE, the University's online marketplace. Purchases from these suppliers should be made through uSOURCE to save administrative time and effort.
For more information:
Consulting Services
The Broader Public Sector (BPS) Expenses Directive must be incorporated into the acquisition of consulting services such that, under no circumstances can food, beverage, gratuities, laundry, dry cleaning and personal telephone calls be itemized and paid as part of any contract between the University and a consultant or separately reimbursed. Allowable business related travel and accommodation expenses can be claimed and reimbursed only when pre-approved by the University and the contract specifically provides for it.
The Employee versus Contractor / Taxation of Payments provides guidance in determining whether payments to an individual are considered employment or non-employment in nature.
Presidential Authorization – Consulting engagements, regardless of dollar value, that cannot be sourced in a competitive manner, must be pre-approved by the President of the University who must sign the Procurement Policy Exemptions Justification form.
Contracts over $1,000,000 – Consulting contracts above $1,000,000 require the authorization of Business Board.
For more information, see Consulting Services.
Non-Consulting Services (Independent Contractors)
For information on Independent Contractors, see Consulting Services > Contractor.
Conflict of Interest
University employees are governed by policies on conflict of interest, which prohibit the acceptance of gifts in any form from suppliers doing business with, or soliciting business from, the University. Refer to Policy on Conflict of Interest – Academic Staff, Policy on Conflict of Interest – Librarians, or the Human Resources and Equity web site for conflict of interest policies for other employee groups.
Purchasing Card (PCard)
The University has a number of payment options depending on the nature and value of the procurement. One of these options is the University of Toronto's Purchasing Card, which is an efficient and cost effective method to pay for goods and services of relatively low dollar value.
The use of the University's Purchasing Card is subject to the University's Procurement Policy. The PCard is designed to serve as an alternative to the use of petty cash, instances where a Purchase Order is not accepted by a vendor, or a vendor is not available through uSOURCE. The PCard cannot be used as a mechanism to avoid or bypass the University's Procurement Policy and related procedures.
Personal Acquisitions
The use of University processes or resources for the purchase of personal items or services is not permitted under any circumstances. The use of the University's identity for personal reasons is also not permitted.
Policy Exemptions
In rare circumstances where a competitive procurement process cannot be conducted (i.e. by obtaining supplier quotations or issuing an open tender call), the Procurement Policy Exemptions Justification (PPEJ) form must be completed, authorized and submitted to Procurement Services.
Where a limited tendering provision or non-application provision is used, a solid rationale must be included in the PPEJ to justify its use.
Non-competitively sourced goods, services and construction with contract values at or greater than $100,000, will be published on the Procurement Services website as required by federal Trade Agreements.
Where the acquisition of scientific equipment of a highly specialized nature is available from only one supplier, one quotation is acceptable provided the acquisition of such equipment from that supplier without competitive quotations is approved by a Principal, Dean, or Vice-Dean of Research (or equivalent).
The Director of Procurement Services or the University Chief Financial Officer must support all Procurement Policy Exemptions.
For more information, see Limited Tendering and Non-Application.
Last revised: March 15, 2019