How do I Contact the FAST team for Assistance?
How do I contact the FAST team for assistance?
There are a number of different ways of contacting the FAST Team;
Email FAST.help, this can be done using either of the following two methods:

Email FAST Help direct – Screen shots of errors and other "non-text" information can be included in emails sent directly to . To include screen shots use the "snipping tool" () that may be available on the start menu or through "all programs>accessories>snipping tool".
Use the AMS Help Form – https://easi.its.utoronto.ca/ams-help-form/
The AMS Help Form is a one-stop shop for SAP system assistance. Make sure to review your choice of system assistance and select the correct radio button. Assistance can be delayed when the wrong support team is selected and the email request may be returned to you or forwarded to the correct department losing precious time.
Select FIS to reach the FAST team, complete the template and submit.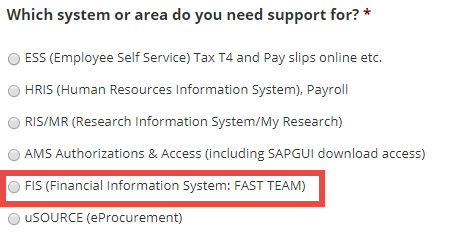 Reminder: The FAST.Help email address is monitored Monday to Friday during regular business hours and every attempt is made to respond to your enquiry by the end of the day. This email is monitored by members of the FAST Team on a rotating basis.
Email or Phone your FAST Team Faculty/Division Rep directly, find your FAST Team Representative and contact information at https://finance.utoronto.ca/fast/contacts.htm.
When leaving voice mail messages please remember to speak slowly and clearly.
It is recommended that if assistance is required on a time sensitive basis that requests should be sent to as there is always someone monitoring the email account. FAST Team members are regularly attending meetings and supporting training activities and therefore may be away from the office and unable to respond to emails quickly.
---
Last Updated: September 19, 2018