Troubleshooting Excel with SAP/AMS
How to change your default excel download settings in SAP
What is the correct Excel download setting when exporting an SAP report into a spreadsheet?
SIMULATION: How to Enable your Macro Settings and the Save As Icon in Excel
Is your report output blank when you download into MS Excel? Some computers that have an older version of MS Excel installed, resulting in AMS reports appearing blank when downloading into Excel.
Resolution:  Watch this simulation to enable macro settings and the Save As button.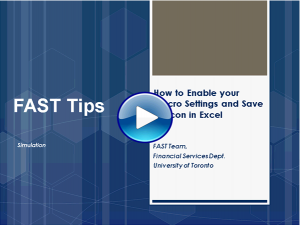 ---
Learn More:
---
Last Updated: September 28, 2022