How to Download and Save Reports in the FIORI Launchpad (FLP) Reporting
Users have the option of downloading and saving various reports from the FIORI Launchpad Reporting. This article will outline the steps required to save and download reports.
Note: The approach to save reports varies depending on the report generated.
---
STEPS:
Log into FIORI Launchpad (FLP) Reporting, and click the tile for the report you would like to execute on the Home page.

Approach 1
Enter the report selection criteria and click Execute.

2. Click the More dropdown and select System >>List >> Save >> Save.

3. Users can then select the appropriate file format to save the report. To save in  Excel, select "Text with Tabs" and save the file as ".xls".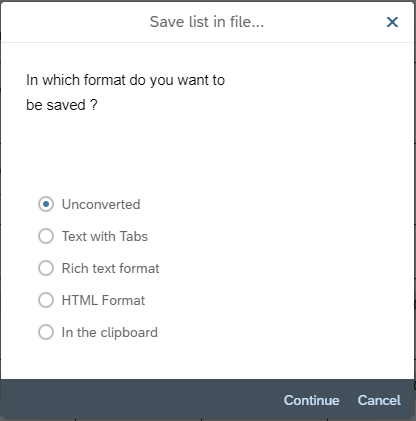 Approach 2:

Approach 3
Click the Spreadsheet (

) icon to download the report into Excel.

If you have any questions or concerns, please contact your FAST Team representative or email .
---
Last Updated: January 28, 2021