What information is required when completing the Direct Bank Deposit form and posting to FIS?
When recording deposits that you send directly to the bank, use the "Direct Deposit Form".
The "banking" portion of the FIS entry requires particular information to be recorded in FIS when the deposit is posted.
It is required to enter the appropriate information in the ASSIGNMENT and TEXT fields when posting to FIS to ensure effective processing.
This information is used by the FSD Banking Clerk when reconciling month end bank statements, and is particularly important should there be a problem with the deposit or the entry so that FSD Banking personnel can quickly identify and contact the person recording the deposit.

Enter the following information when completing the Direct Deposit Form:
Required in FIS in the ASSIGNMENT field:        Department & Phone #
Required in FIS in the TEXT field:
DIRECT CASH, CHEQUES DEPOSIT
BANK TRANSIT, BANK ACCOUNT NUMBER, DEPOSIT TYPE (i.e., CASH or CHEQUE) and date of deposit (i.e., month, year) in the TEXT field.
DIRECT CREDIT CARD DEPOSIT
         The MERCHANT NUMBER, CARD TYPE and DATE
            a. MERCHANT NUMBERs should be in the following number of digits:
– Global – 11, Moneris – 11, American Express – 10, Discover – 15
           b. CREDIT CARD types should be in the following format:
– VS = VISA, MC = MasterCard, DB = Debit, AX = American Express, DC = Discover
           c.  The DATE should indicate the day or period, and year of the deposit.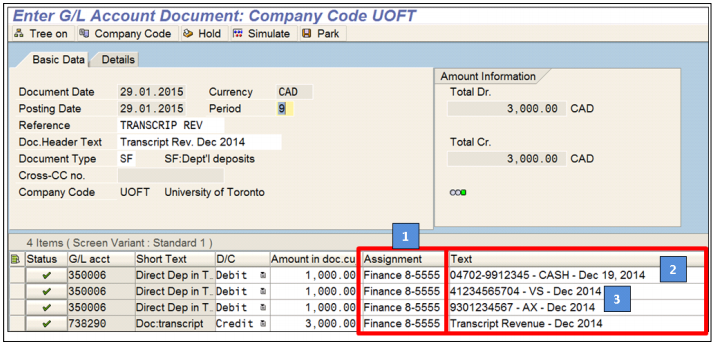 Notes:
Regardless of deposit form template used to record Direct Deposits all information for these fields are to be entered as described.
Also, include this information when completing the "Internal Cash Receipt" Deposit Form.
To learn how you can save time when posting periodic direct deposit transaction in FIS, see the FAST Tip video demonstration below on how you create and retrieve account assignment templates in the G/L Account Postings screen.
---
Learn More:
---
Last Updated: June 9, 2020