Loss of Held Financial Documents created prior to November 2020
As a result of the S4HANA Migration, any financial (FI) documents (e.g., invoices, expense reimbursements, journal entries) that were Held prior to November 1st will be lost/deleted.
Impacted Users: All Administrative staff with FIS posting access who have outstanding Held FI documents.
Action to be Taken: Locate the list of outstanding Held FI documents, and if needed, process them. Alternatively, recreate the Held document after November 3rd.
Important: Prior to processing, ensure that you confirm that the Held document is still needed (i.e., has not already been processed), then process the transaction using the applicable screen (e.g., KN = process in FB60, SA = process in FB50).
---
STEPS
Proceed to the applicable Accounts Payable or General Ledger transactions, such as:
FB60 – Invoice
FB50 – G/L Account Postings
ZIR01 – Internal Revenues/Expense Recoveries 
SCENARIO 1 (Invoice/expense reimbursement/journal entry):
In the FB60/FB50 screen, click the button.
Click the folder.
Double click the desired Held document number.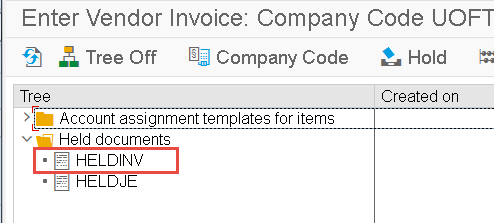 5. Process the transaction.
SCENARIO 2: For Internal Revenues/Internal Expense Recoveries
in the ZIR01 screen click the button.
Enter the Held document number, or click the matchcode button () to search for it.
Click Continue and process the transaction.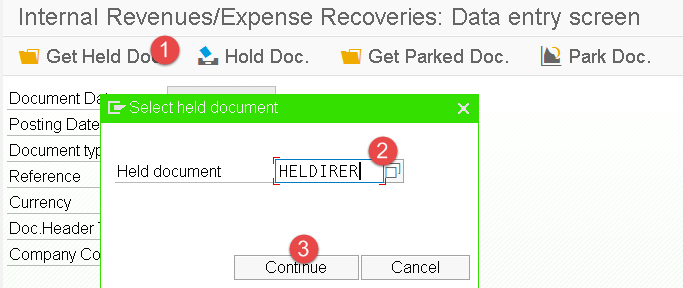 If you have any questions or concerns, please contact your FAST Team representative or email
---
Learn More:
---
Last Updated: October 23, 2020