Using the Budget Carry Forward Simulation Report when Forecasting Operating Budgets
As part of the University's Operating Budget forecasting exercise, divisions and departments are in the process of preparing and analyzing their budget forecasts for central Financial Services for the first submission due on December 5th (see memo sent on Sept. 22nd).
Forecasting enables the University, divisions and departments to estimate what state their operating budget will be at the end of the fiscal year. It provides a basis for financial decision making throughout the year, planning for subsequent years and reporting to the Governing Council.
The ZFIR107 – Budget Carry Forward Simulation report can act as a starting point for departments and divisions when preparing forecasts. It provides a snapshot of the current position of operating budgets to help units analyze spending, anticipate and prepare for deficits or surpluses (i.e., operating reserves).
Example Selection Criteria: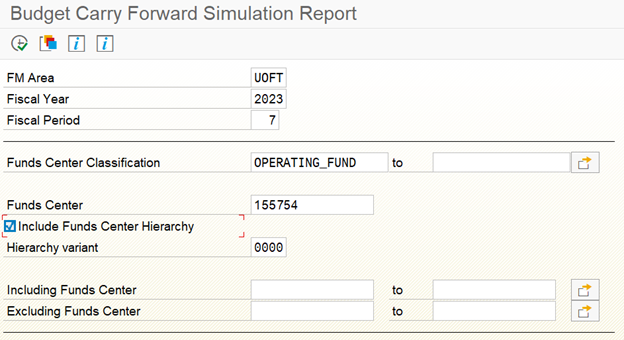 The report also summarizes and presents information in the same format as the Budget Carryforward Report used at fiscal year-end.
If you have any questions about this report, please review the reference guide for Budget Carry Forward Simulation Report and contact your FAST Team representative.
---
Learn More:
---
Last Updated: October 31, 2022