How can I avoid processing a duplicate payment?
To mitigate the risks of processing duplicate payments, it is important to use an existing vendor master record number (do not use an OTA vendor number) and record the invoice date and invoice number in the reference field EXACTLY as it is shown on the invoice (e.g. do not add or remove characters). If an invoice number is not provided (i.e. expense reimbursement or cheque request), ensure that you use a unique reference number.
WHAT THE SYSTEM WILL DO?
The system will issue a 'duplicate payment warning' when the following fields match:
Vendor Number + Invoice Date + Reference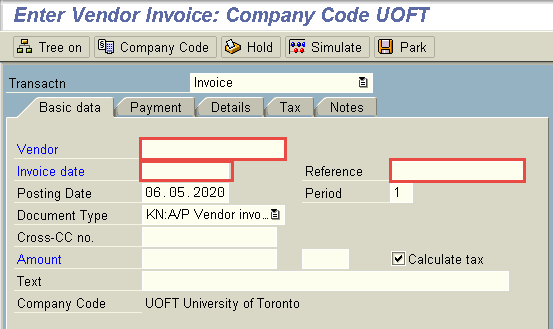 Example:

WHAT TO DO IF YOU RECEIVE THE DUPLICATE MESSAGE WARNING?
If you receive the duplicate message warning, you should display the document referenced in the message, via FB03 – Document Display, to confirm if the invoice on hand has already been paid: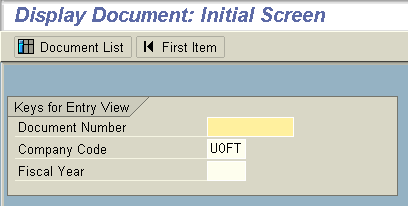 WHICH REPORTS CAN CONFIRM IF AN INVOICE HAS BEEN POSTED?
1. Identify Documents with the same Invoice number by clicking the Document List button within FB03 – Document Display. Indicate the date range and invoice number in the Reference number field: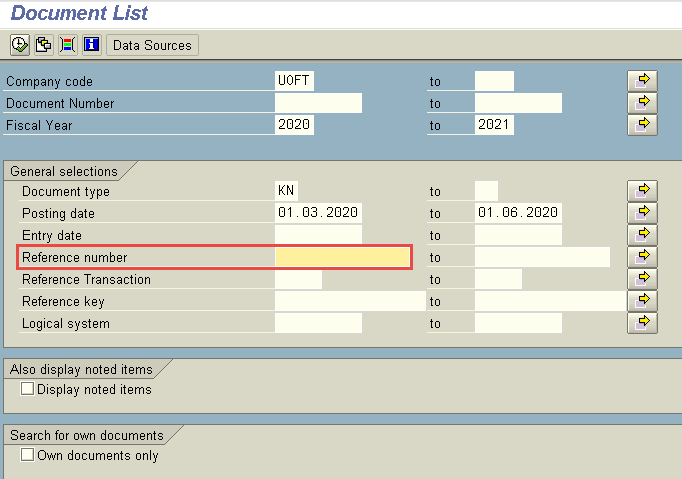 Check for possible duplicate payments to a particular vendor using the FI Postings Line Item Report and select the /DUPLICATE Layout. This layout will display payments to vendors and includes the Reference field.
What to look for: (example below)
One Reference (i.e. invoice number)
Identical amount paid to the same vendor
More than one document number

FINAL REMINDER: When reconciling, there should only be one original source document. If you have received an electronic copy of an invoice and an original (by mail or within a shipment), ensure it is only processed once and any duplicate copies be recycled.
---
Learn More:
---
Last Updated: July 24, 2020