FIS Standard Curriculum Certificate – Requirements
What is the FIS Standard Curriculum?
The curriculum is a set of nine courses (see list below) that provides an overview of the University's financial system as well as the foundation for processing, reporting, budgeting and planning within the FIS system.
Each course covers the best practices and business processes involved in performing common financial transactions within the university's Financial Information System (FIS).
Once all 9 courses are completed, attendees will be receive the FIS Standard Curriculum certificate.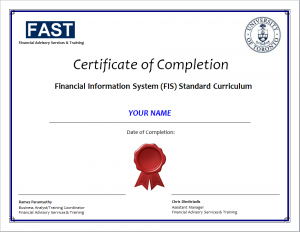 Who should take these courses?
The Standard Curriculum is open to all University employees (including UTEMP), and is highly recommended training for all new FIS users, those looking for a refresher or staff who would like to learn more about the FIS system at the University.

What courses are required to qualify for the certificate?
FIS Overview
A/P Processing Part 1: Basic Data Entry
A/P Processing Part 2: Expense Reimbursements
G/L Account Postings: Basic Data Entry
A/P and G/L Account Postings: Troubleshooting
Logistics: Purchase Requisitions & Purchase Orders
Logistics: Goods Receipts & Invoice Receipts
Basic Funds Management Reporting
Basic Controlling Reporting
Not sure if you qualify? Contact Rames Paramsothy for your FIS training history.
Does it matter what order I take the courses?
Each course builds upon the previous. To get the most out of your FIS training experience, it is highly recommended that the courses be taken in the order in which they are listed,  even if you are not able to complete all the courses in a single round.
How do I get my certificate once I have completed all the courses?
*Note: Courses must have been completed within the last 5 years to be considered valid for the certificate.
Request Standard Curriculum Certificate
Please provide your full name and email address. Once your eligibility has been confirmed, the certificate will be added to your learning record.
For general inquiries about FIS training, contact Rames Paramsothy, at  or 416-978-4675.